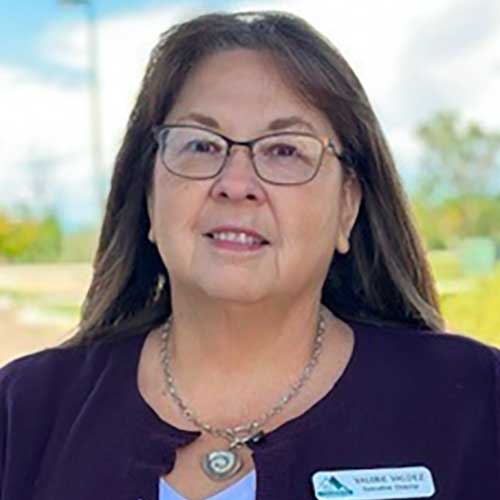 Valerie started her senior living career in 1999. She has been an Executive Director for both Memory Care and Assisted Living Communities. Her previous job was Operations Specialist travelling to several states as an interim Executive Director for Independent Living, Assisted Living and Memory Care. Valerie has a passion for working with seniors and enjoys hearing the history our seniors share.
When not working, Valerie's priority is family – all of her immediate family live in Colorado. She also enjoys taking photos, nature and glassblowing.
Kali Dreiling, a Colorado native, is the Community Life director at The Peaks at Old Laramie Trail. Prior to joining the team, she worked as a resident program coordinator at Brookdale Senior Living.
Kali feels it is important to provide her residents with the opportunity to interact with family, friends and loved ones. She enjoys creating meaningful activities and programs that cultivate joyful experiences and provide a vibrant life for the residents.
In her free time, Kali enjoys gardening, traveling, arts and crafts, cooking, decorating, and organizing events. She takes pride in her work and always maintains a joyous, upbeat attitude.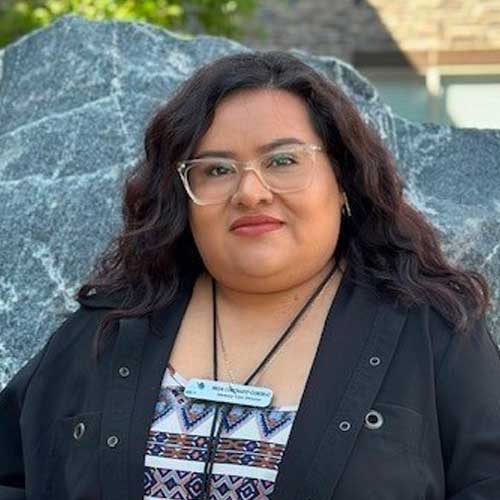 Hilda Corchado brings over 10 years of healthcare experience to The Peaks at Old Laramie Trail. I worked for a private DR office as a medical assistant before I started working here at the Peaks. I realized then that healthcare was my passion and my heart. I started working for The Peaks at Old Laramie Trail when the building first opened. I started in the memory care unit as a caregiver, then Q Map, was promoted to RCC and now I am the Memory Care Director.  Over the years I have developed good relationships with the residents and family members.  I feel privileged to be part of their lives. Dementia care is my passion. I have an incredibly supportive husband and 2 dogs that keep me busy. I have a big family and love spending time with them.  If you ever stop in my office, you will realize I love essential oils and the peace they bring me. I love the mountains and going on hikes with my husband. I like to read in my free time and walk my fur babies. 
Culinary Services Director
Rowan DuBois serves as the Culinary Services director for The Peaks at Old Laramie Trail. He found his passion for food at an early age through sampling a variety of regional cuisines as he traveled cross country every summer to visit family.
Rowan attended Colorado State University and earned his degree in health and exercise science before furthering his education with a degree in dietetics from the University of Northern Colorado. This is where Rowan's knowledge and passion for food and nutrition fully developed.
After graduation, Rowan began his career at a long-term care facility in Florida as a dietitian, where he stayed for five years. In October 2021, the mountains began to call to him again and Rowan chose to return to Colorado.
Misty Senter is the Celebrations Director at The Peaks at Old Laramie Trail. Misty started at the Peaks in 2019 as an activities assistant then worked her way up. Misty has worked in healthcare doing activities for 10 years.
Misty believes it's important for residents to have the best quality of life. She enjoys creating new and exciting activities that bring happiness and purposeful experiences for each resident. "Life is meant to be a celebration" ~ Leo Buscaglia
In her free time from work, Misty enjoys spending time with her family, walking her dog, watching hockey, Off Roading, attending concerts, crafting, decorating and antiques shopping.
Senior Lifestyle Counselor
Kali Manzanares, a Colorado native, proudly serves as the Senior Lifestyle Counselor at The Peaks at Old Laramie Trail. With four years of dedicated service at The Peaks, Kali brings a wealth of experience to her role, having previously served as the Vibrant Life Director at the community.
Kali is deeply passionate about creating an environment where her prospect residents and current residents can thrive as they age gracefully. She believes in fostering a sense of community that nurtures the well-being and happiness of all its members.
Outside of her professional life, Kali indulges in a variety of interests that reflect her creative and vibrant personality. She finds joy in gardening, exploring new destinations through travel, unleashing her artistic side through arts and crafts, mastering the culinary arts in the kitchen, and creating inviting and memorable events.
Kali's commitment to her work is underscored by her ever-present, upbeat attitude, which she carries with her in all aspects of her life. Her dedication to helping others find their ideal living situation shines through in her role as a Senior Lifestyle Counselor, ensuring that each resident's journey is filled with warmth, comfort, and the opportunity to flourish.